In PM Modi's Cabinet Reshuffle Today, 19 New Faces With Focus on 'Doers': 10 Facts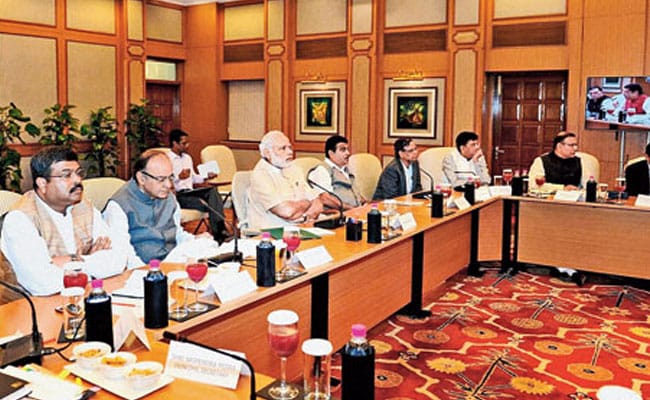 NEW DELHI:Â  Prime Minister Narendra Modi will reshuffle and expand his council of ministers today and 19 new ministers are expected to be sworn in at the majestic Durbar Hall of Rashtrapati Bhavan at 11 am.
Here is your 10-point guide on this story:
Sources said all those inducted today will be junior ministers or ministers of state and not of cabinet rank, though some may be given independent charge of their ministries. There will be no change in the top four portfolios – Defence, Home, Finance and External Affairs, they said.
Finance minister Arun Jaitley may, however, give up the critical Information and Broadcasting ministry, as PM Modi wants to reduce his workload, sources indicated. Mr Jaitley heads three major ministries.
PM Modi also has to appoint a new sports minister with Sarbanada Sonowal moving to Assam as Chief Minister. Some ministers like Power Minister Piyush Goel and Environment Minister Prakash Javadekar may be in for a promotion.
A few ministers in PM Modi's council will have to resign to make way for the new entrants since constitutionally, the council can have only 82. It currently has 66 ministers including the Prime Minister and, sources said, six ministers could be dropped.
A government source said PM Modi laid down the framework for the selection of new ministers – "doers and performers" who can "deliver on his vision of development and priorities – gaon garib and kisan (village, the poor and the farmer)."
The list of new ministers has an advocate, PP Chaudhary (BJP), a surgeon, Subhash Bhamre (BJP), an editor, MJ Akbar (BJP), a former bureaucrat Arjun Ram Meghwal (BJP) and a writer and conservationist Anil Madhav Dave (BJP).
The list also reveals a careful balance of caste, social and regional considerations. Two leaders – Jaswantsinh Bhabhor (BJP) and Faggan Singh Kulaste (BJP) – belong to Scheduled Tribes and five to Scheduled Castes — Ajay Tamta (BJP), Ramdas Athalwale (RPI), Arjun Ram Meghwal (BJP), Ramesh Jigajinagi (BJP) and Krishna Raj (BJP).
There are two minority leaders – MJ Akbar and SS Ahluwalia (BJP) – and two women — Anupriya Singh Patel (Apna Dal) and Krishna Raj.
The ministers come from 10 states – Uttar Pradesh, Rajasthan, Gujarat, Bengal,Maharashtra, Madhya Pradesh, Delhi, Uttarakhand, Karnataka and Assam.
Three are from Uttar Pradesh, where elections will be held in early 2017 — Anupriya Singh Patel, MN Pandey and Krishna Raj – and three from Gujarat, where elections are due later next year.
Source by ndtv…
loading...